Rosa's Thai Leamington Spa
Coming soon!
Map
Announcement: Opening Saturday 1st July 2023
Be the first to find out about tasty offers, news and recipes by signing up to our mailing list today!
Rosa's Thai Leamington Spa
The best Thai food in Leamington Spa
Visit Rosa's Thai, the best Thai restaurant in Leamington Spa for authentic flavours and exciting signature dishes. Our first restaurant in Leamington Spa is located a mere 7-minute walk from the town centre by the river Leam. Open seven davs a week for eat-in and takeout.

Our soon to be opened Rosa's Thai Leamington Spa is less than a 5 minute walk to the Leamington Spa Art Gallery & Museum and Pump Room Gardens in one direction and the Regent Court and Royal Priors Shopping Centres in the other. We are right in the middle of popular shops and bars, leaving you with lots of entertainment to fill your day.
Take a virtual walk-through our soon to be opened Rosa's Thai restaurant in Leamington Spa.
Housed in a historical, listed building by Burton Buildings on 140-142 Parade, that was once home to Burton menswear, owned by Sir Montague Burton, dubbed 'The Tailor of taste' (pun intended)
Our 100-cover restaurant will be ready to serve the first Pad Thai in early July.
Don't forget to sign up to our mailing list and be the first to find out about our soft launch offers.
Have you tried Rosa's Thai new spring menu?
Start your meal with one of our classic salads, Tum Tang Kwa, a rainbow-bright salad of carrot, green beans, cherry tomatoes, cucumber and chilli, in a sweet, sour and spicy dressing.
If you've tried our Wok Star dishes before, then check out some of our new additions to the Spring menu. You can now order the Chilli & Basil Stir Fry and the Cashew Stir Fry with perfectly cooked pork belly. Plus, there's the new light and tasty Crab Fried Rice – a Thai staple which combines jasmine rice, eggs, onions, spring onions and a mix of white and brown crab meat. These are just a few of the highlights from our new spring menu.
Spring into Rosa's Thai Leamington Spa today and enjoy them all!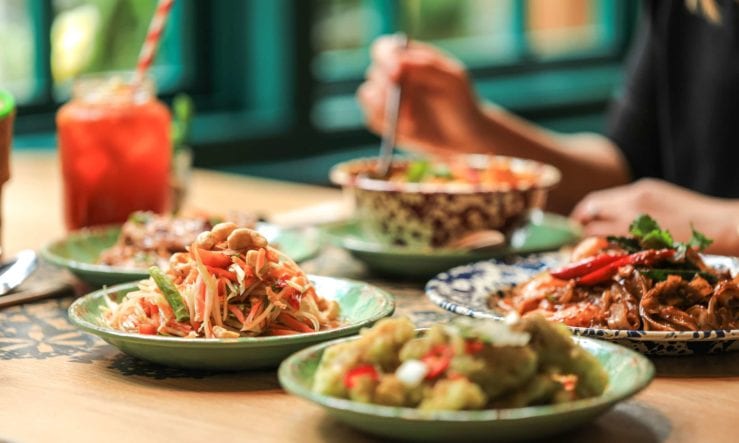 For diners who prefer meat-free, gluten-free or halal meals there are lots of options, and most of our veggie and tofu dishes can be made completely vegan too.
Or if you're taking a trip to Vue Cinema around the block with your little  ones, you'll be happy to learn that there's a lovely selection of Thai dishes such as spring rolls and crispy prawns on the Kid's menu.