Thai Feast Menu
Monday, July 10th, 2023
Rosa's Thai Feast Set Menu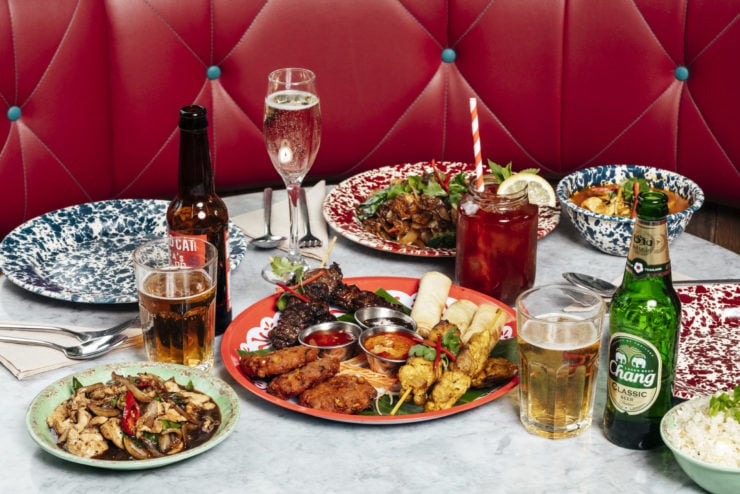 Join us for an authentic Thai feast at Rosa's
Take the stress out of organising parties and big groups with our Thai Feast menu! Whether it's a birthday, graduation party, celebrations or work event, our 3-course menu is a Thai banquet fit for kings and queens.
Starting from £25 per person, order your platters (each one serves 2), then choose your own main course and dessert. We'll provide prawn and pumpkin crackers for the whole table!
Our classic platter comes with crowds' favourites like chicken satay, spring rolls, grilled pork skewers, just to name a few, but we also have veggie platter for those who like fresh summer rolls, salt n' pepper tofu, and sweetcorn patties.
For the main course, choose from Rosa's most popular dishes like Green Curry chicken, Massaman Curry beef, and our indulgent Pad Thai. Plus, all curries and stir-fries come with jasmine rice too.
Finish the meal with our Som Tum Brownie served with coconut ice cream or Mini Mango Rice with coconut dressing and mango sauce.
Group dining that's sure to impress
Our Thai set menu is perfect for large groups of 6 or more people. We've created this menu specifically for bigger parties that cater for all tastes whilst staying true to Thai-style dining.
The starters are often shared in Thailand so everyone can try a bit of everything. For mains, we've picked out some of the most popular (and the yummiest) dishes to make it easier for you. If you fancy some extra veggies, we've also some amazing dishes for £3 each such as broccoli stir-fried with chillies, green beans with roasted chilli oil and garlic, and steamed mixed veggies in soy sauce.
All you need to do is choose your options, show up and enjoy the party!
Parties of 6-11 people can choose to order from this menu or from the all-day menu. For bookings of 12 or more people, we kindly request that you order from this set menu for large groups as it will really help us to get everyone's orders out at the same time.
Check out the full menu here.
Enjoy your own space at Rosa's selected restaurants
---
View our allergen & nutritional information
Please note, our food is prepared in kitchens where allergens are present. Some dishes may contain traces of nuts, wheat, gluten, milk and other allergenic ingredients. We're unable to list every ingredient on this menu, so please ask our staff for more detailed information about our food and allergens. We're here to help – please ask for assistance!
Can be spicy
Definitely spicy
Thai spicy
---